Click here to view original web page at www.breitbart.com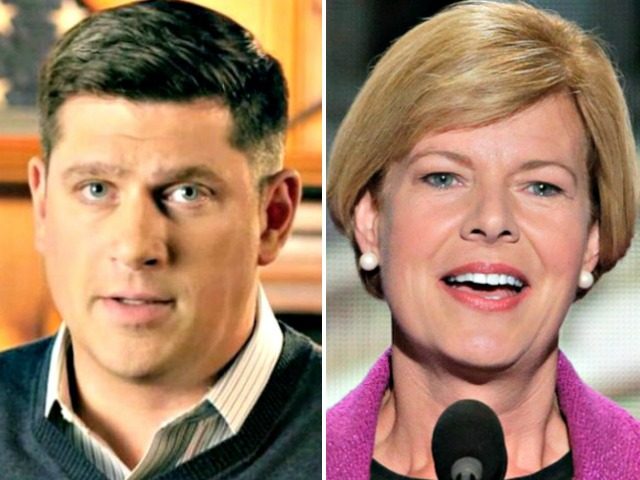 Republican challenger Kevin Nicholson told Breitbart Washington political editor Matt Boyle Wednesday morning that incumbent Sen. Tammy Baldwin (D-WI) is a hypocrite when it comes to her stands on immigration policy.
Appearing on Sirius XM's Breitbart News Daily, Nicholson told program host Boyle it was time "to point out the hypocrisy of people like Tammy Baldwin who … is one of the politicians that has encouraged illegal immigration to take place in the first place through catch and release immigration policies that encourage people to bring kids here illegally, to bring their kids through a fair amount of danger that they take."
Nicholson added that illegal alien parents "put their kids in this situation because they've been encouraged by American politicians like Tammy Baldwin to come here illegally."
"I firmly believe that people like Tammy Baldwin that encourage illegal or unfettered immigration do so in order to take advantage of people," adding:
Here, case in point. My case is made. You see it laid bare in front of the whole world to see. Democrats want to create crises. They want to abuse human rights when it comes to immigration because what they can do is keep people in a permanently disadvantaged status. Not citizens, beholden to the Democratic Party either for the promise of citizenship or legalization some day or for just in any way shape or form available as a cheap vote.
"Whether they're pushing for cheap votes or cheap labor, Tammy Baldwin has been at the forefront of putting people in this precarious situation," he added.
"What I've always said is, first and foremost, stop illegal immigration. Do that and you put people in a better position across the border, Americans that are here, and new immigrants," Nicholson concluded.
The interview began with Nicholson responding to this clip of Sen. Tammy Baldwin explaining her recent policy reversal on CNN to reporter Brooke Baldwin:
CNN's Brooke Baldwin: Here's a question for Democrats. … Looking back to previous administrations, they should have done more. So many people in this country are outraged by the cages and the thermal blankets and the facilities housing these kids … They were all there in 2014 under President Obama.

My question to you, Senator Baldwin, is, did you speak up against them then?

Sen. Tammy Baldwin: You know, on this issue that we get into a moment where we're making progress, and then when it stalls, we turn around. We all need to continue to be focused on it press it through. The American people need confidence that we can solve problems.

CNN's Brooke Baldwin: But were you worried about it then? Did you raise your voice against the Obama administration?

Sen. Tammy Baldwin: You know, in numbers of cases, usually, I remember a constituent who was in detention at the border, arguably very inappropriately, and we raised our voice in that instance and many others. We've got to do this now in unison. It's not enough to do it case by case.
Sen. Baldwin is one of ten incumbent Democrat senators up for re-election in 2018 in a state President Trump won in 2016.
According to the latest Real Clear Politics Average of Polls, Baldwin currently leads Nicholson in a potential general election matchup by 11 points, 50 percent to 39 percent.
You can hear the full interview here:
Comments
comments