Click here to view original web page at www.breitbart.com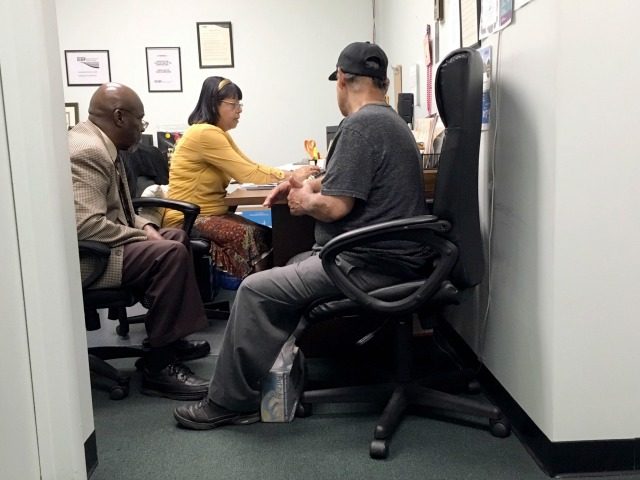 Disabled Americans are getting more jobs as CEOs try to recruit new workers without raising wages in President Donald Trump's tight labor market.
The good news is made clear in data provided by economist Ernie Tedeschi, who post a New York Times article showing that a quick drop in the share of Americans who claimed disability as their reason for quitting the job market. The number of disabled unemployed has dropped by 1.5 million, down to 6.7 million in 2018. The number had risen from 5 million in 1998 up to 7.2 million in 2014.
I'm in the @UpshotNYT today bearing good news: the number of prime-age Americans out of the labor force due to disability is falling at unprecedented rates. /1https://t.co/Me7S8ou7Oe

— Ernie Tedeschi (@ernietedeschi) March 15, 2018
Tedeschi wrote in the New York Times:
In 1994, the Bureau of Labor Statistics determined that 4 percent of Americans 25 to 54 were not seeking work because of those [health or disability] reasons. By mid-2014, the number had risen to almost 6 percent of that age group … But then it began to fall: slowly at first and then, beginning in 2016, faster. Over all, the number of prime-age people who cite disability as their reason for not working has shrunk by 7 percent since mid-2014.
That 7 percent drop is shown by the want-ads, such as this request for a full-time seasonal cook on a tourist boat:
As a cook for the Showboat Branson Belle you may do a number of duties to include, but not limited to, cooking to order, plating entrées, and ensuring cleanliness of the kitchen. Prepping and cooking for each two hour dinner cruise takes a great amount of team work. Our cooks work together in a small kitchen to complete each task … Reasonable accommodations may be made to enable individuals with disabilities to perform the essential functions.
Moreover, the company is offering to accept a hire who has only six months of experience.
But the good news also obscures bad news — the CEOs are hiring disabled Americans instead of offering higher wages to poach able-bodied employees from each other.
So far, and despite a massive number of anecdotes about rising pay, federal data shows that most CEOs have successfully blocked pay increases in 2017 and early 2018, partly by hiring sidelined workers.
Outside of a few cities where unemployment has dipped to extremely low levels — below 3 percent, for example — CEOs are giving annual wage-raises barely above the 2 percent inflation rate, according to federal data highlighted by Tedeschi.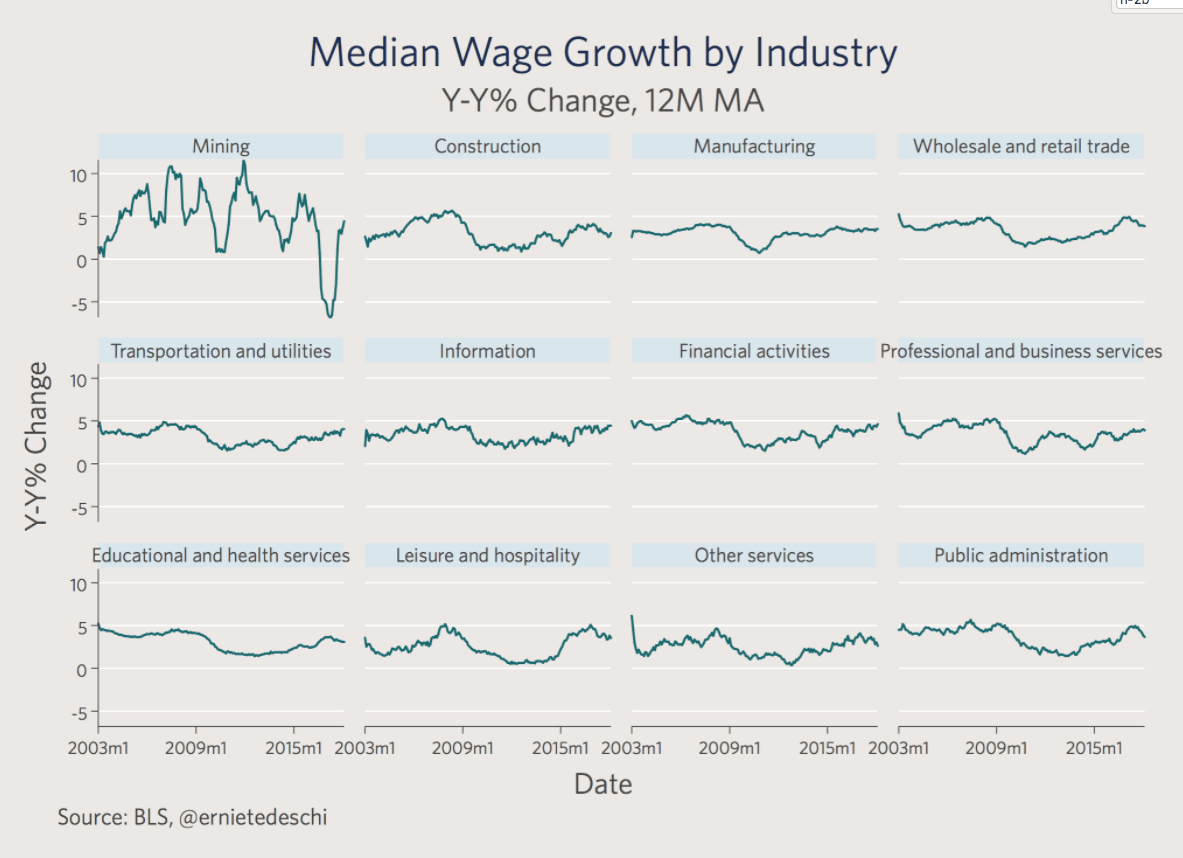 In Branson, the company which is hiring the disabled cook is offering 4 percent wage raises to returning seasonal workers, said Denna Partridge, the personnel chief for Silver Dollar City which runs the showboat. "We're offering a lot of perks … [and] our merit [pay] is at 4 percent," she told Breitbart News. That wage raise ensures that roughly 94 percent of seasonal workers return to the firm each year, she said.
CEOs are resisting wage raises because they are the last resort, Tedeschi told Breitbart News.
A wage raise in one year means higher payroll costs the next year and every year after that — and it cannot be withdrawn without alienating the employee. Moreover, a wage raise for one worker ensures pressure from peer workers for matching raises — and it also increases pressure from subordinates and superiors for matching raises. This means any wage raise for one employee can force employers to raise wages for several, tens or hundreds of other employees. This huge expense will cut company profits — and likely cut the CEOs' bonus package once the stock price takes a hit.
To compete for workers without offering pay raises, CEOs are offering a wide variety of alternative non-cash benefits, or are hiring marginalized people, such as disabled workers. For example, the company seeking the cook for the showboat, Herschend Family Entertainment, is also offering to provide their new disabled ook with:
Free admission to Herschend Family Entertainment theme parks and water parks
Complimentary Silver Dollar City Attractions tickets to share with your favorite people
Access to a low-cost health clinic, which features a full-service doctor's office
Free or reduced admission to many local shows and attractions, plus other local discounts
Discounts on food, merchandise and lodging at Herschend Family Entertainment properties
Eligible full-time employees also receive health insurance, profit sharing and 401(k)
But the pay is still only $11 or $12 per hour, and the job is only for ten months — so there is no pay is January or February. That's equivalent to a 16 percent annual wage loss.
The big political question for most Americans is: When will business executives run out of workers and start a bidding war for employees by offering higher wages?
This Wall St data shows most Americans' wages & benefits ('ECI') rise 3% per year when 80% of 'prime-age' people (M&F, age 25-54) have jobs. (80% is flip of 20%). AKA, labor shortages = higher wages. IOW, lower immigration = higher wages. (EPOP = Employment to Population Ratio) https://t.co/KlchcAZsJV
Tedeschi's charts do not show what wage offers will motivate the next wave of the remaining 6.7 million disabled workers to get back to work. If CEOs can't hire more disabled workers at current wages, then they will be forced to start raising wages, perhaps by November.
But if CEOs can find alternative American workers — such as retired workers — or foreign workers, they will not have to start a bidding war this summer.
Worse, CEOs might be able to avoid a wage-raising bidding war in 2019 if pro-migration Democrats and business-first Republicans give them a rescue package of more foreign workers.
That rescue is very unlikely to be as large as the 2013 "Gang of Eight" amnesty-and-immigration bill. That bill would have dropped wages for at least a decade by adding up to 30 million legal workers in one decade, according to the June 2013 report by the Congressional Budget Office:
Because the bill would increase the rate of growth of the labor force, average wages would be held down in the first decade after enactment by a reduction in the ratio of capital to labor.
As they try to find workers without raising wages — party by hiring disabled workers — CEOs are also testing many workarounds.
CEOs are using the media to complain about worker shortages, and are appealing for a government bail-out in the form of imported workers. For example, employers in Branson also claimed to the Washington Post that wages are rising in the resort city, saying:
Branson employers seek a variety of hires, from housekeepers to receptionists to senior managers in the tourism and hospitality industries, with pay ranging from $12 to $20 an hour, as well as hospital nurses whose salaries start at $54,000.
But data from Indeed.com does not show $12 housekeeping jobs. Instead, Indeed.com's data shows an average housekeeping salary of just $9.64 over the past three years.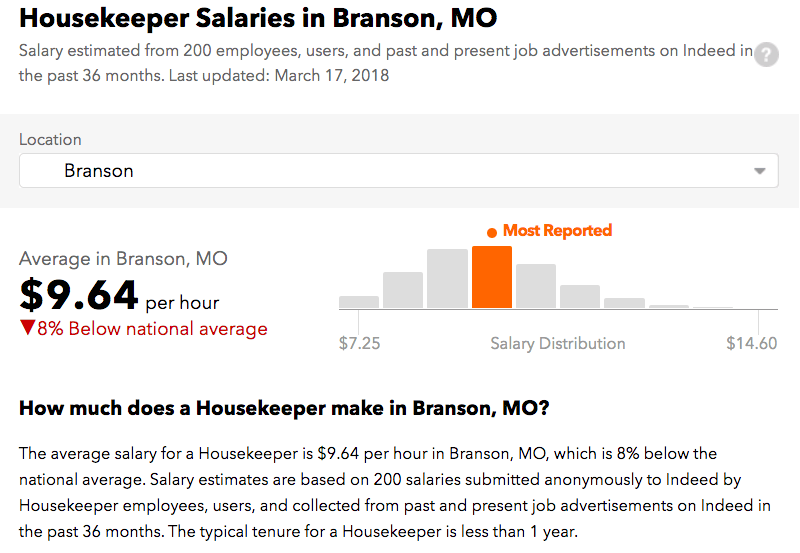 Newer housekeeping jobs recently posted at SimplyHired.com offer multiple housekeeping jobs at around $10.50 per hour, although some jobs offer only $9 per hour and one job was offered at $12 per hour.
As part of their complaints, some of the Branson business executives claim pay raises won't attract Americans to do the Branson jobs. In March 2017, a Branson hotel-manager told a local TV station that:
"There is just such a tremendous shortage [of workers] in this area," says Chateau on the Lake general manager, Stephen Marshall. "It's not that we don't want to hire locals, there's just not enough" …

However, he doesn't believe funneling that money into higher hourly wages, as part of an effort to attract local help, would have much success.

"I would tell you, with a lot of confidence, let's say I get approved from corporate office that we want to pay room attendants $15 an hour," [Stephen] Marshall says.

"There's people that just don't want to do that work," he says. "They just don't want to do it."
Those press complaints aid lobbying of local representatives and Senators. In March 2018, that lobbying worked when Congress included a measure in the 2018 omnibus which allows the Department of Homeland Security and the Department of Labor to roughly double the annual inflow 66,000 H-2B guest-workers.
That's good for business, but is another political problem for Trump, who will have to shake off frantic business lobbying if he does not want to import the extra H-2B workers.
Branson employers will likely press officials in the DHS and labor department for a share of the extra H-2Bs in 2018 as they try to reach their 2018 target of importing 2,000 workers.
In 2017, Branson business leaders asked for 475 H-2B visas. However, they only got 70 workers, according to the Washington Post.
In Branson and nationwide, employers are also using labor brokers to bring in additional workers via the J-1 visa worker program. In 2017, Branson employers got 700 J-1 workers.
So far, federal officials have not announced plans to reform or trim the J-1 program which imports more than 300,000 seasonal workers each year. In 2016, 3,827 J-1 workers arrived in Missouri.
Local business leaders are even offering new benefits to the guest workers, including a refurbished hotel for 900 workers. The developer of the hotel, Richard Rubin, CEO of Repvblik LLC., told a local TV station:
You want to make sure that they have a positive experience. Not only of the city and of the facility but of the country. So we want to make sure the pool is up and running, the hot tubs are working. That we've got pool tables and ping pong and all the rest of the things in a designated area.
Branson employers have also recruited and imported almost 300 workers from Puerto Rico in 2018, according to the Washington Post. Under a 1917 law, Puerto Ricans are considered Americans when they arrive in the mainland.
The Washington Post, however, portrays the push for cheap labor as a progressive festival of vibrant diversity:
BRANSON, Mo. — In a ballroom with antlers on the wall and hoof prints on the carpet, diversity coach Miguel Joey Aviles asked whether anyone knew how to merengue.

"Lord have mercy," he said, counting hands. "Only two?"

This is "Hispanics 101," a class meant to teach employers in the Ozarks resort town of 11,400 how to lure workers from Puerto Rico and persuade them to stay …

Aviles, who grew up in San Sebastián, Puerto Rico, ended his four-hour session of "Hispanics 101" by urging Branson employers to stay champions of Puerto Rican workers long after their first day on the job.

"The worst thing I've seen is halfhearted efforts," Aviles told the room. "If we go halfway, it never works out."
Wages are barely rising nationwide, but the economic outlook is good, Tedeschi told Breitbart News. He can't predict when or if wages will rise for ordinary workers, he said, but added, "we are having good problems."
Comments
comments